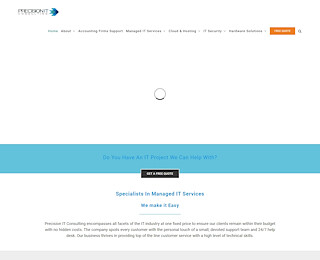 Since we opened for business in Surrey, we've received questions from clients about our IT support services in Surrey. On this page, we have decided to answers common questions we hear from our clients. Most of these questions have to do with what we do.
What does IT support services mean?
IT support services are technology services you need to keep your business running smoothly. At Precision IT Consulting, our experts can manage your network support services. We cover more IT support services than you can ever imagine, including IT Security Services, Managed IT Services, Cloud & Hosting Services, Email Security Solutions, and Hardware Solutions. We can help you concentrate on what matters most for your business.
What type of companies do you serve?
We serve businesses of all sizes in Surrey. Both small and big companies can benefit from our managed IT services in Surrey so they can focus on their core business.
Can you create a custom service for my business?
Yes, all you need to do is call us at 604-359-5284 to speak to one of our customer representatives so we can better understand your business's unique needs.
Can you help us develop it security policy?
At Precision IT Consulting, we are ready to be your Surrey IT support company. We configured all the necessary security services to protect your business during the onboarding process. Please reach out to our customer if you would like to review or update your security policy.
How much does your service cost?
There is no standardized pricing. The cost of our managed IT services in Surrey differs with the service offered and the duration of the service. Our pricing usually involves per-using pricing. While there's no hidden cost, your services may begin with low pricing and later involves high variable costs. At Precision IT Consulting, our goal is to make it easy for you, so we always make our pricing as transparent as possible.
How do you respond or address issues that occur after typical business hours?
Our customer representative is available 24/7 to answer your calls. If our customer representative is busy, our support coordinators will respond/
What advice can you give a customer looking for a provider like you?
We recommend hiring an IT support company that is accountable and ready to provide comprehensive reports every month to show work performed and identify issues.
What are the benefits of our managed IT support services?
Managed IT services are cost savings and make business IT support costs more manageable and predictable. Our managed support IT service at precision IT Consulting provides businesses with comprehensive security, recovery solutions, customized backup, and state-of-the-art cloud hosting and storage.
Have A Question We Didn't Answer Here? Contact Us
We've tried to cover as many questions about our IT Support Services Surrey, but we understand you might have questions that are specific to your business. Please call our office at 604-359-5284 if you have other questions not answered here. We'd love to answer them.