CERTOLAB Mexico City has been rolling out comprehensive in-plant business medical services & mobile medical outsourcing to companies in Mexico City.
With a commitment to being "an ally [to Mexican businesses] that facilitates compliance with current labor laws, and develops strategies that allow the achievement of business objectives," the company - which has been serving patients at three laboratories/diagnostics centers stationed in municipalities throughout Mexico City - is utilizing their new business-oriented initiative with a goal of raising the quality of human capital & workplace health for its clients, by providing the most complete occupational health services, including its medical outsourcing & convenient mobile medical units, and timely diagnosis for the prevention & treatment of conditions found among workers, based on their work activity, lifestyle, and individual age & gender-related conditions.
Considering that human capital is one of the most important assets of an organization, it is necessary to take measures that ensure its well-being, through the conduct of periodic studies established by the Federal Labor Law for all companies in Mexico, in accordance with the company's activities, transactions & productive processes – measures that in turn improve the company's profitability, and place it within the law, by complying with the established norms.
Medical Services in Businesses
Occupational health is a fundamental part of a company's investment in human capital – which, today, is a distinguishing competitive advantage, bringing along benefits such as cultivating greater organizational commitment on the part of the company's workers; as well as greater job satisfaction, which itself results in better performance & staying power within the organization.
By investing in your health, your training costs go down, along with your risk premium in the eyes of the IMSS – saving you considerably on future social security expenses, and reducing employee turnover.
According to studies by the World Health Organization, treating a worker's condition after the fact is less profitable for the company, than investing in a protection and risk prevention plan in advance.
That's why CERTOLAB is committed to providing businesses in Mexico City, in the state of Mexico, and all throughout the nation, with full support in:
Performing periodic studies scheduled by the company, based on the individual occupational risk of each worker, and the health standards to be covered. If needed, CERTOLAB provides timely advice on developing study profiles to be carried out by area.
Participation in Occupational Health Campaigns; offering diagnostic services as check-ups at reasonable prices for company workers, as well as preventative & informational discussions.
Creating permanent discount agreements for workers and their immediate family members in CERTOLAB's branches, with which CERTOLAB reaffirms its social responsibility – giving families access to quality diagnostic services at fair prices.
CERTOLAB Laboratory's business medical initiative has successfully served a number of great national & international corporations of all kinds.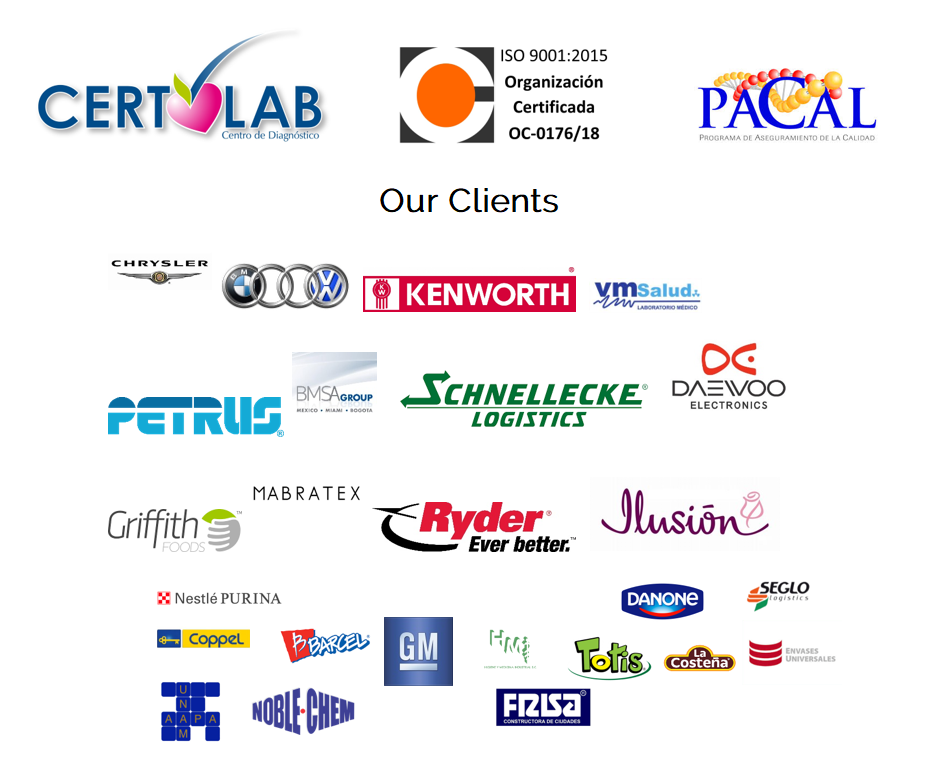 Why do businesses choose CERTOLAB Laboratory Mexico City for their workers?
CERTOLAB has highly qualified & certified personnel, governed by the highest standards of professionalism, ethics & quality, and constantly updated & trained for precise & timely compliance with regulations. This gives CERTOLAB a great deal of experience and sense of social responsibility, allowing it to fulfill its mission of providing the patient, in a space of high quality and human warmth, an "Extraordinary Health Experience."
The company's team is composed of Parasitologists, Bacteriologists, Chemists, Certified Occupational Medicine Specialists, Gynecologists, Internists, Cardiologists, Neurologists, Pulmonologists, Radiologists, and even more subspecialties, giving CERTOLAB greater certainty, veracity & confidence in its services, and guaranteeing the results it provides.
What are the best practices of a laboratory?
The best practices of a laboratory are obvious in CERTOLAB's focus on quality control, certification, training, and compliance with national & international medical standards -- a key component of its mission to improve workplace health in Mexico City and all of Mexico.
All analyses are carried out under current Mexican standards, and they are also processed up to 3 times by different evaluation methods in case they require verification. As a Clinical and Radiological Diagnostics Center, CERTOLAB fully complies with the standards NORM-064-SSA1-1993, NOM-208-SSA1-2002, NOM-229-SSA1-2002, NOM-007- SSA3-2011, in addition to the specific rules applicable to each process. As occupational health professionals, CERTOLAB has 75/10 accreditation with the EMA and quality management system CERTIFICATE OC-0176/18 under the standard NMX-CC-9001-IMNC-2015, ISO 9001: 201.
Because of the importance of providing solid results, especially for the future treatment of the patient, CERTOLAB relies on PACAL quality control to ensure that its processes are within the required guidelines, that equipment is calibrated daily, and to ensure the use of internationally certified reagents.
Samples obtained are stored in optimal conditions for approximately 72 hours so that if necessary, another verification can be carried out by running the tests again.
CERTOLAB has more than 10 years of experience in diagnostic imaging, using equipment from the best brands worldwide including Siemens, LG & Philips – high-quality equipment that utilizes the latest technology and comes with international certifications – as well as a DICOM/PACS system that digitizes images for better review, interpretation & storage.
Additionally, all radiology studies are interpreted by specialists in Radiology, Ultrasonography, and Mammography.
For audiometry & spirometry studies, CERTOLAB's staff is also specialized in occupational medicine and is certified in the Council for Accreditation in Occupational Hearing Conservation (CAOHC), and the National Institute for Occupational Safety and Health (NIOSH).
In addition to its in-office patient diagnostics services at Laboratorio Medico CERTOLAB San Miguel and Laboratorio Medico CERTOLAB Haciendas, those wishing to learn more about CERTOLAB's medical services, mobile medical units, and outsourcing for companies can contact the company at its website, www.serviciomedicoempresas.com, by visiting its main office on Google Maps at Laboratorio Medico CERTOLAB Izcalli or by calling the customer service department at +52 1 55 58 72 46 52.
The company has a national network for continuous branch services, with offices in Monterrey, Guadalajara, Queretaro, and its main Mexico City laboratory service.