Eric Couch, a retirement planning expert of 20+ years, and Chief Servant at ProVision Brokerage, has received his designation as a Certified Annuity Specialist® (CAS®). CAS is the highest professional distinction awarded to insurance and financial professionals who specialize in annuities.

As the "Annuity Nerd," Mr. Couch supports clients through their retirement years offering safe money solutions personalized to their retirement income goals while helping them navigate and protect the assets they've spent a lifetime accumulating. He's such an annuity nerd, that his vehicle license plate is ANNUITY and his local phone is 972-ANNUITY.
Couch joins an elite group of financial professionals who have earned this distinction by fulfilling a rigorous educational requirement. CAS designees have a wealth of knowledge about annuities, qualifying them to educate prospects and investors about the potential to protect and grow their savings with fixed annuities.
The Certified Annuity Specialist designation is awarded by the Institute of Business and Finance to business and finance professionals with a demonstrated knowledge of the annuity product type. The certification demonstrates dedication to this field and provides a professional designation to those individuals seeking to increase their knowledge, confidence, and credibility with employers, colleagues and clients.
Mr. Couch specializes in what he calls "safe money," the products which he says "are federally defined by the government as having absolutely zero market risk, guaranteed. That means you legally cannot lose a penny based on market losses."
"The market's a wicked mistress," says Couch on his experience helping families retire safely, "and it's my duty and calling to help families and individuals safely navigate these troubled waters."
In conclusion, Eric Couch's designation as a Certified Annuity Specialist is a testament to his service in the financial industry. His knowledge and experience in annuities have helped individuals and families make informed decisions when it comes to investing and planning for their future. By working with a national network of financial advisors, Couch's firm, ProVision Brokerage, has protected over $2 billion from market risks. He gives clients the confidence that their finances are in good hands and that they get the appropriate "solutions to life's financial questions."
About Eric Couch:
Eric Couch is a multi-year member of the Forbes Finance Council and the prestigious SMU Cox: School of Business' Dallas 100, and an award-winning speaker, coach & best-selling author.
He has had the privilege of sharing the stage with Martha Stewart, Ice-T and Coco, Nigel Farage (founder of the Brexit Party), Michael Gerber (The E-Myth), George Ross (Trump's attorney), and speaking at Carnegie Hall, NASDAQ, London Stock Exchange, Harvard Club of Boston, Oxford and the Royal Society of Medicine.
He regularly hosts the podcast, Living a Legacy, where he interviews celebrities on how they use their influence to impact the world. Guests include George Lopez, Les Brown, Kevin Harrington, Kathy Ireland, Jack Canfield, Clint Black, and many more.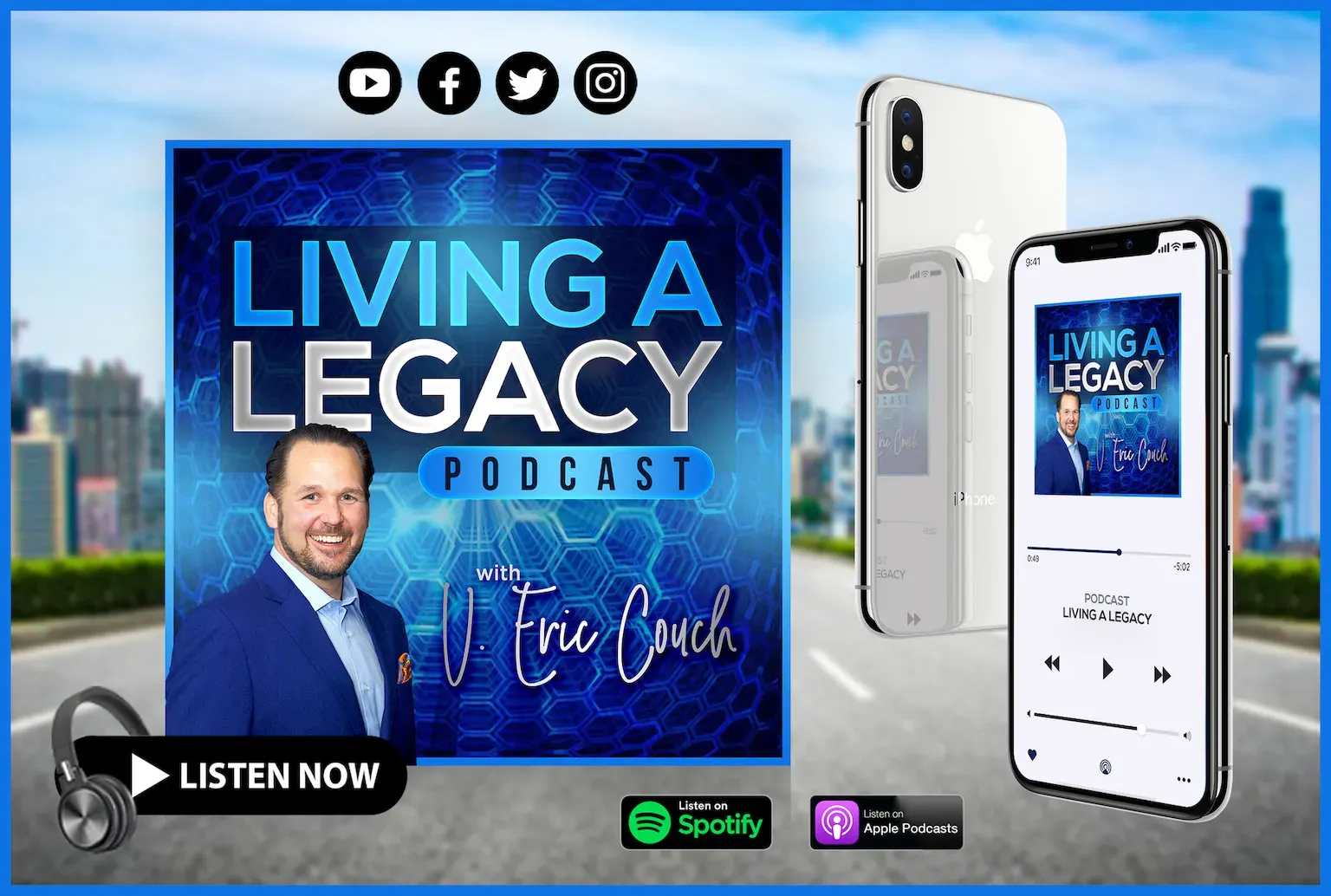 For over 20 years, Mr. Couch has been a nationally acclaimed professional in retirement planning, having protected over $1B+ retirement assets in the past 3 years. As the advisor to advisors, he has built a national network of financial professionals who work tirelessly to educate retirees on safe money, "the money you can't afford to lose." Simply put, he's the guy behind the curtain with the answers.
About ProVision Brokerage
ProVision Brokerage, LLC is an independently owned insurance marketing organization (IMO) based out of Dallas, Texas. The firm is focused on assisting financial advisors to meet the needs of their clients by using a solution-based approach with Annuities, Life Insurance, and Asset-Based Long Term Care.