Eric Couch with Nigel Farage at the London Stock Exchange
In the summer of 2021, Eric Couch, retirement planning professional and Chief Servant at ProVision Brokerage, embarked on a speaking tour in the United Kingdom where he spoke at several prestigious places, including the London Stock Exchange, where he shared the stage with Nigel Farage – founder of the Brexit Party.
A financial professional for over 20 years, Couch has helped clients protect over $2 billion from market risk. He has assembled a national network of advisors to educate customers on what he calls "Safe Money" – "the money you can't afford to lose."
Nigel Farage is a British politician best known for his prominent role in the Brexit movement. Long an advocate for the United Kingdom to leave the European Union, he was a key figure in the 2016 referendum for the UK's withdrawal. He was a founding member and former leader of the UK Independence Party (UKIP). After resigning from UKIP, in 2019 Farage formed the Brexit Party, which won the largest number of seats in the UK's European Parliament elections that year. Under Farage's leadership, the Brexit Party has been a vocal proponent of a hard Brexit, arguing for a clean break from the EU without a withdrawal agreement in place.
As a staunch advocate of financial resiliency, Eric Couch found Farage's stances on personal finance deeply resonant. Couch asked him, "What would be the greatest lesson you've ever learned about money?"
Farage answered, "You could lose it very, very quickly," and recounted his own personal experience with volatile commodities prices and the Great Recession. "When I went into politics, the commodity boom started. I missed it completely. A lot of my friends made huge amounts of money. Sort of the '04 - '10 period, when commodity prices … it was the last time that they really ran big. And some of them have kept the money, and some of them have just lost it all!"
Farage's moral about investing: "Be cautious. Enjoy the bits you don't need, but be very, very cautious." He criticized "herd mentality" investing as "a great danger" and "speculative," suggesting that instead "You've got to think for yourself, do your own thing, draw up a good long-term plan … insure yourself against the inevitable downturns and bad times economically, that are I don't think all that far away."
Eric Couch Speaks at the London Stock Exchange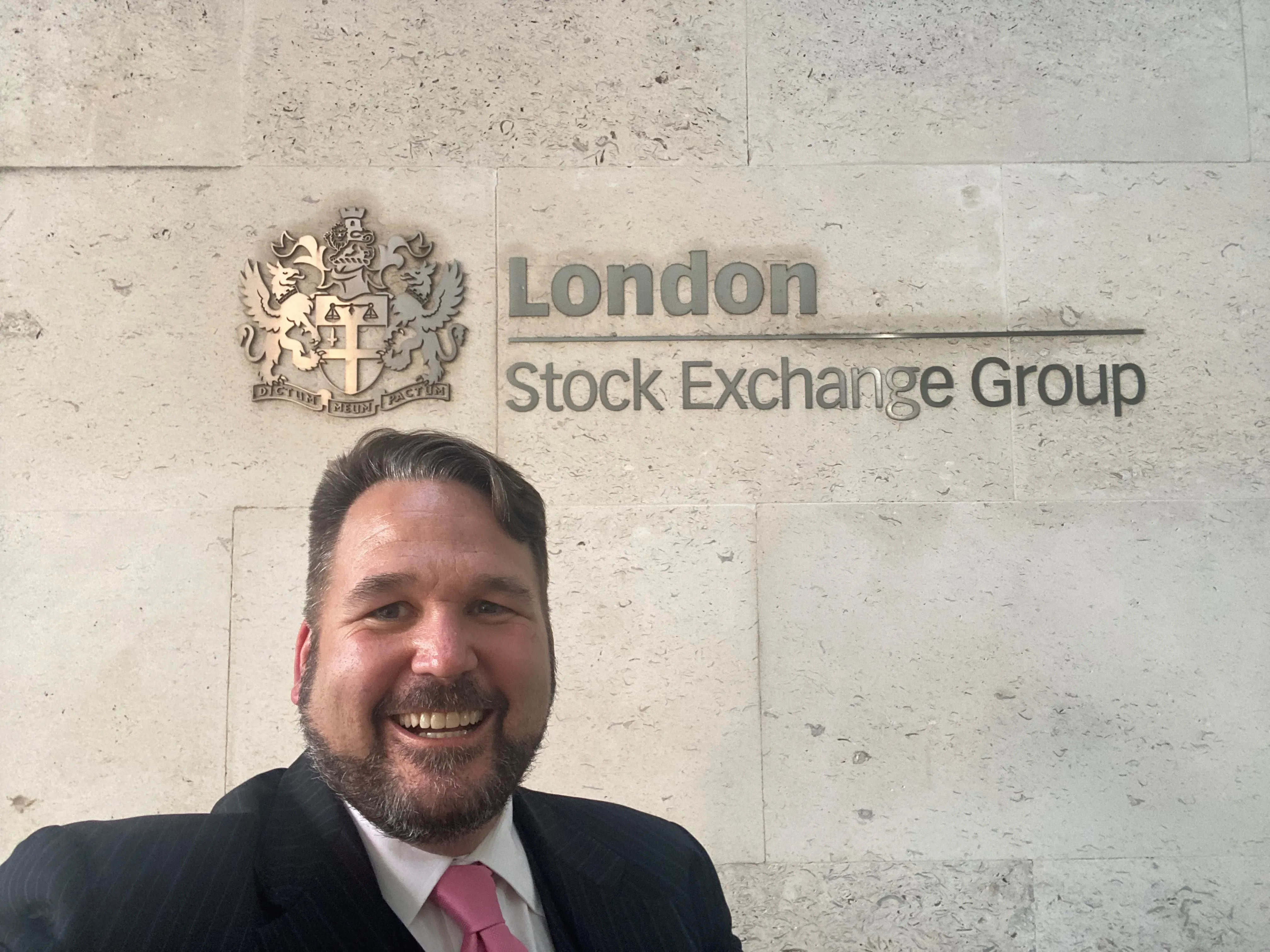 These suggestions have a lot of overlap with Eric Couch's own views on finance. At the London Stock Exchange, he gave a speech on the 4 mantras his family lives by to protect their money, one of which is: "People who build wealth play defense."
"There's something called the Rule of 100," says Couch, "and the Rule of 100 says: Take the number 100, subtract your age from 100, and the remaining number as a percentage is okay to be at risk in investments. So, whatever your age is, that's how much you should be protected from market risk. Now it's not a church, it's not good versus evil. There's a place for the market and there's a place for safe money, but people who build wealth play defense."
Couch sees the market as a "Wicked Mistress," targeting the most unsuspecting of families, and Nigel Farage's experience and wisdom complement Couch's own tips to the audience; especially to play defense with their wealth.
Eric Couch's speech was well-received by the entrepreneurs, CEOs and medical professionals in attendance. His London speaking tour also included appearances at the University of Oxford, University of Cambridge, and the Royal Society of Medicine.
For more information about Eric Couch, his media appearances, and to book him as a speaker, visit his website at www.EricCouch.TV.