Eric Couch, Chief Servant at ProVision Brokerage LLC, had the great privilege of being a Distinguished Visitor at Fort Irwin, the U.S. Army National Training Center, in the Mojave Desert of California.
Couch was invited as part of an initiative to connect influential entrepreneurs with the Army, training and educating them on Army life, modernization, and the future of warfare.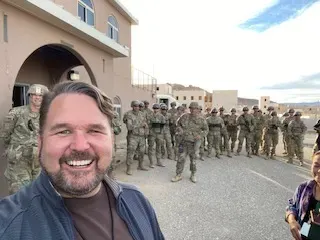 As part of the event, he was flown to the NTC by Black Hawk helicopter; participated in live weapons training; observed and even participated in a combat simulation of a building clearing scenario. From a business standpoint, what Couch felt most impactful and relatable was insights from Brig. Gen. Curtis Taylor, Commanding General of the NTC – in particular, his training on the importance of the debrief in the Army.
The Importance of a Debrief
Couch asked General Taylor about the importance of a debrief. The General's response, "This is the most important phase of the training we do here, and we do it 100 times after every battle."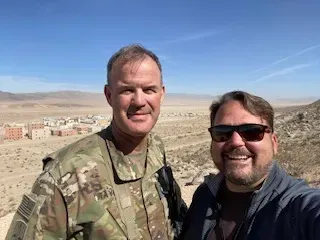 After the simulation, Taylor and the combatants demonstrated a debrief, also known as an AAR "after action review", of what went well, what didn't go well, and areas for improvement.
"What we want to do is promote dialogue. What I love is when a specialist says, "hey LT, that might have been clear in your head, but it wasn't in mine. When we transitioned, I thought you wanted us going North and then we went South." Then that learning happens. This is the most important phase of what we do here." General Taylor.
Couch describes this as his biggest takeaway from his time at the NTC. While he feels many lessons from real war are equally applicable in entrepreneurship, "what General Taylor said here is true: the debrief is the most important thing," says Couch.
"Preparedness is everything when it comes to business, but most especially the debriefing. If you or your company don't take a moment to look back on the last month, quarter, or year, and take a long, hard look at what worked well, what didn't, and what you would change, there's just no way you're gonna be prepared for what could happen next year. Before you know it, a recession or depression's around the corner, you'll be shooting blind, and it'll be as if the enemy has caught up to you."
Couch has over 20 years of experience in retirement planning, specializing in annuities, as the Annuity Nerd, and his firm, ProVision Brokerage, has protected over $1 billion from market losses just over the past 3 years. Couch attributes this to a focus on preparedness. He has exclusively focused on what he calls "Safe Money," the money you can't afford to lose, helping retirees safely navigate market turbulence and protect their savings through "guaranteed" products. Part of this preparedness is his knack for relationship-building, with a national network of financial advisors, and access to over 100 insurance companies, which enables him and his network to recommend the most appropriate solution.
In his demonstration of the debrief, Brig. Gen. Taylor further stated that training for warfare means acting as if it's a real war. "It's just like blocking and tackling in football. If you have the fundamentals down, then you revert back to your training. We have a saying that soldiers don't rise to the occasion in combat; they operate at the level of their training. And so under stress, we all divert back to our training. So it's so important here at the National Training Center that they do it the way they would do it if it were real because that's exactly how they're going to do it when it is real."
About Eric Couch: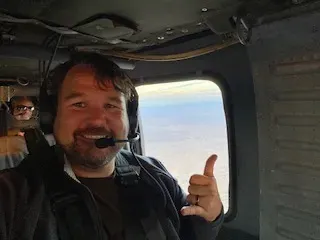 Eric Couch is a multi-year member of the Forbes Finance Council and the prestigious SMU Cox: School of Business Dallas 100. He's also an international award-winning speaker, coach & best-selling author. He has had the privilege of sharing the stage with Martha Stewart, Ice-T and Coco, Nigel Farage (founder of the Brexit Party), Michael Gerber (The E-Myth), George Ross (Trump's attorney), and speaking at Carnegie Hall, NASDAQ, London Stock Exchange, Harvard Club of Boston, Oxford and the Royal Society of Medicine.
He regularly hosts the podcast, Living a Legacy, where he interviews celebrities on how they use their influence to impact the world. Guests include George Lopez, Les Brown, Kevin Harrington, Kathy Ireland, Jack Canfield, Clint Black, and many more.
As the advisor to advisors, he has built a national network of financial professionals who work tirelessly to educate retirees on safe money, "the money you can't afford to lose." Simply put, he's the guy behind the curtain with the answers.
Brig. Gen. Taylor shared one more valuable tip, if you would like to support and hire veterans, you can visit: www.hiringourheroes.org.