More and more people decide to leave the Golden State every day. San Francisco, Los Angeles and its counties. In Thousand Oaks CA for example real estate transactions decline. As long as the Federal Reserve drives the interest rate up, mortgage companies that aren't huge, but rather they are like first defending shields, will go out of business because books have been fried. Home buyers will have fewer places to take a mortgage to buy a house in CA. Although house prices drop, banks won't hurry to borrow home shoppers' money to buy it.

In short, high-interest rates make money more expensive for commercial banks to borrow. Bankers make money on the spread between short and long-term borrowing. When a 30-year mortgage produces less yield than, for example, 1-2 year notes, banks can't make money anymore. Yet when sharks stop swimming, sharks drown.

In addition to these economic challenges, consumers won't refinance their mortgages from 4.5% to 5.89%, unless homeowners are desperate to get cash to cover other debt payments that are due every month – which adds more competition to lenders. For example, an affordable rate below 3% was standard 1-2 years ago.
What to expect from now on. The Federal Reserve will continue to spike interest rates, slowing demand. The Fed can't control supply. It can go as high as the process takes to curb inflation at the cost of recession or even depression. US GDP has been declining for the last 2 consecutive quarters. People go home without a check in 2-3 months depending on the employment termination package. For instance, "whales" started to fire people at the first sign of trouble. Amazon fired 100,000 employees at once. People will start to save on emotional purchases, and focus on basics: food, shelter, and energy.
Remote opportunities will diminish as a pretext to fire additional employees if workers choose not to come back to offices. Wage or salary determines where one can afford to live. Dwellers can't afford the life they once had. Smart people will flee to other destinations. Sunbelt states are a default choice.
The most common destinations for former Californians, states like Arizona, Nevada, or Texas, offer a lower cost of living and more diverse job opportunities.
For homeowners and families thinking of moving, timing is everything. When real estate demand is booming and there are more buyers than sellers, prices are higher. This trend was historically accurate in big cities like San Francisco and Los Angeles. However, as some larger companies have begun to leave the state, the market has already changed.
California home sellers are still commanding high prices. However, this trend will slowly change as the market adjusts to a downward inevitable correction.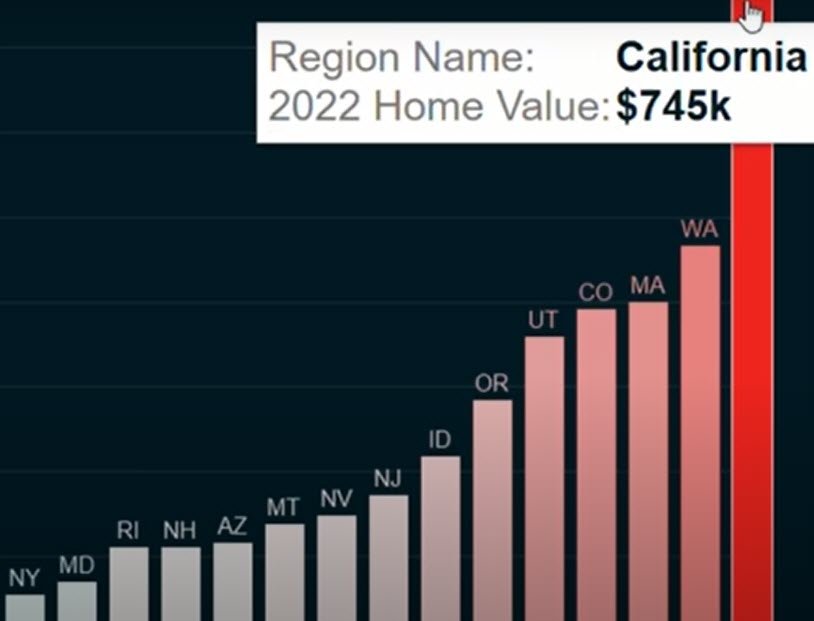 Tips For Finding A New Home And Life
Uprooting from California and leaving everything behind can be daunting. Plenty of resources are available to help make the transition as smooth as possible.

Home value vs earnings is a great affordability indicator.
Historical home value. Any price is almost always subject to correction. As long as we have a free market and capitalism.
Employers profile in the region. Smart companies move to where the capital is treated the best.
Research Homes Or Apartments Online - Luckily, the internet has made it easier than ever to research potential new homes in other states. Websites like Realtor.com, Zillow, and Trulia list homes for sale all over the country.
Narrowing down the search by location, price, and amenities is a breeze. With virtual tours and the ability to apply for apartments online, finding a new place to live has never been more accessible.
Selecting a new place to live with a high walk score is essential for people to enjoy convenience within walking distance of home. Walk Score is a website that rates the walkability of any given address.
Accessibility is essential for residents who want to get around without a car. It's also great to be able to walk or bike to nearby restaurants, shops, and parks.
Get To Know The Local Scene - Checking out the farmers' markets, festivals, and live music scene is a great way to get a feel for the area's culture and people.
Many websites and apps, like Meetup, are also helpful for connecting people with local people to share interests and build new networks. Remember, there could be a small amount of culture shock when moving to a new state. For instance, the food scene in Texas is barbecue-centric, while California is known for its fresh seafood.
Researching the local cuisine is a great way to get excited about the move and ensure that there will be plenty of options to enjoy once everything gets settled.
Adjusting To The Sunshine Belt's Climate - One of the best things about moving to the Sunshine Belt is the beautiful weather year-round. However, this change can take some getting used to.
Stock Up On Sun Protection Essentials - Be ready to stock up on sun protection essentials like UPF-protective clothing, sunscreen, hats, and sunglasses for the move. The heat can be intense, so staying hydrated and protecting oneself from the sun's rays is essential.
Wait It Out Or Make A Move?
Undoubtedly, moving to the Sunshine Belt from California is a big decision. However, with the real estate market in flux, weighing all the pros and cons before making such a life-changing move is essential.
For some, the lure of lower taxes, cheaper living costs, and more job opportunities are too great to resist. However, others may decide to wait to make significant moves to avoid potential pitfalls as the market corrects itself.
Ultimately, only the individual or family can decide what's best for them. However, moving to the Sunshine Belt can be an exciting and rewarding experience with careful planning and research. It can potentially create a wealth of new opportunities, not to mention lead to a more fulfilling and enriching lifestyle in a place where the sun nearly always shines.
A lot of realtors will sell homeowners a FOMO because inventory is low thus prices are high. Inventory will increase soon for the reasons mentioned above. If home hunters want to purchase a house at the market peak, ramifications will follow. Either way, Ready to Go Movers will take care of your move.