Homeowners in Whitby, Ontario, plus the surrounding neighbourhoods and cities, know and remember their smooth, easy-going experience buying and selling with Whitby & Durham Region Realtor® Allan Rankin.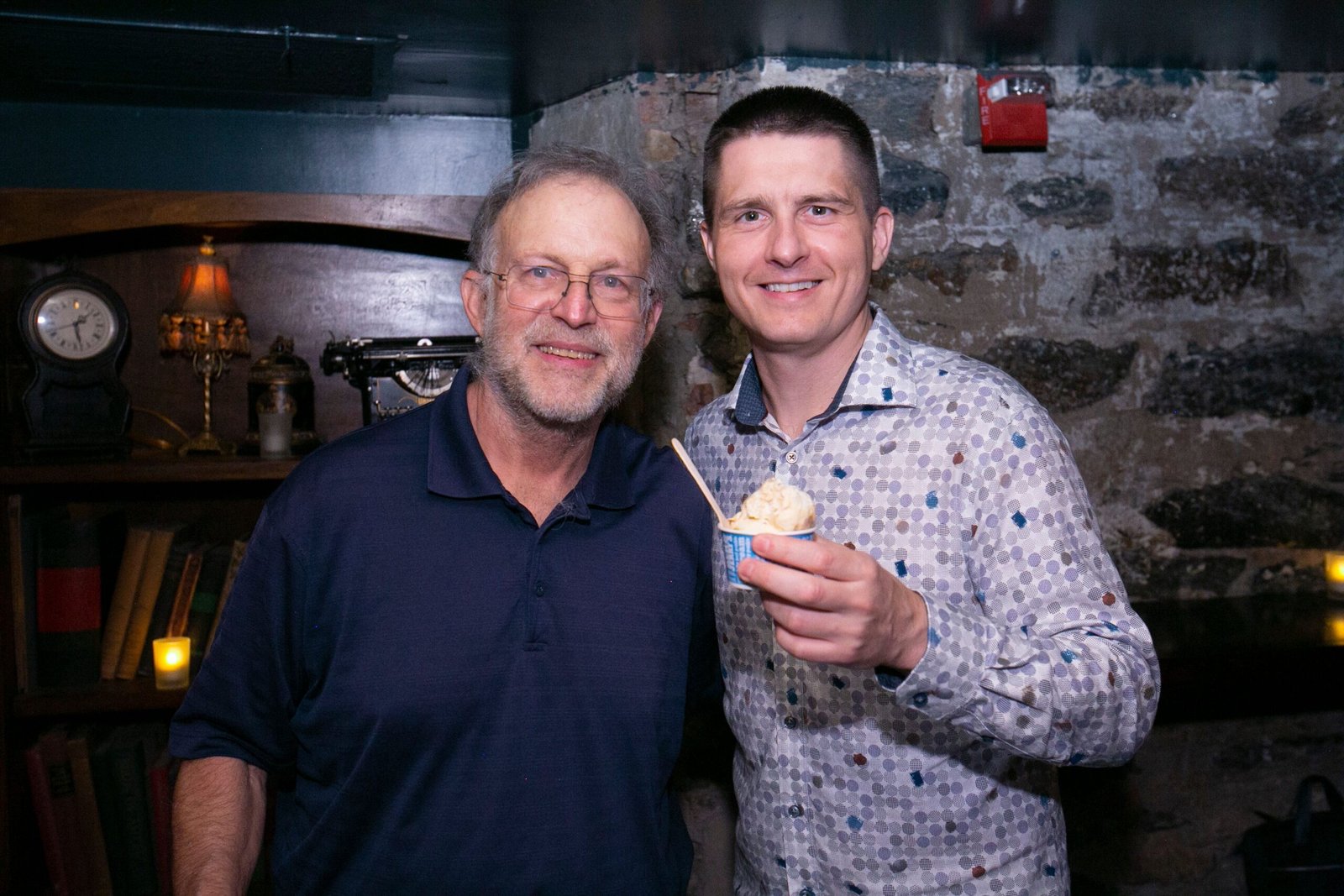 Allan has made a brand for himself over 17 years' professional experience in real estate. He's learned from numerous top entrepreneurs about what it takes to create a memorable brand. To that end, he spent some time with one of America's top branding entrepreneurs: Jerry Greenfield, the "Jerry" in Ben & Jerry's Homemade ice cream.
Here, Allan "chunks down" Jerry's advice from starting the now-iconic frozen foods brand from scratch, and what it has to do with Allan's career as a Realtor:
1. Never Forget Where You Came From
Today, Ben & Jerry's is a subsidiary of foods & housewares giant Unilever. However, it could be said every big business starts small.
Ben & Jerry first set up shop in 1978 in tiny "hippie" Vermont. Initially, they ran their ice cream parlour out of a converted gas station. Within mere years of their venture's initial success, Ben & Jerry expanded into a converted spool and bobbin mill. They used the larger space to start selling ice cream pints to restaurants and store shelves – where Ben & Jerry's is a worldwide mainstay today.
Ben & Jerry's continues to make its humble Vermont beginnings a core part of its brand. One sight of their pints could instantly conjure up those Vermont "hippie" vibes. This is something customers remember and associate with the Ben & Jerry's brand, from the familiar artwork to the taste and texture.
Allan Rankin has been a full-time Realtor in Whitby, Ontario for over 17 years. Born & raised in Whitby, he knows the area, communities, and neighbourhoods like the back of his hand. Although he's spoken on various prestigious stages and been on TV, homeowners and families choose to list their homes with Allan Rankin because of the warmth & trust that comes from his community familiarity.
2. Treat Them Like a Million Dollars
Ben & Jerry's has historically placed customer service first. Jerry recounted the origins of one of the brand's signature offers: its annual "Free Cone Day," when customers can get free ice cream scoops all day long. Ben & Jerry's has run this event ever since its second year in business.
Jerry's spirit of giving extends into charitable activity. His business funds the Ben & Jerry's Foundation, which has awarded over $50 million USD in grants to organizations that directly benefit underprivileged communities.
When Jerry personally hand-scooped and served his own ice cream to Allan Rankin, it reminded the Whitby Realtor of his own commitment to customer service.
Allan prides in going above and beyond for home sellers and buyers alike. Homeowners and families credit him with fast sales and getting above asking price in the community.
"…Allan was great! He helped me, my brother, and my cousin all buy our first homes. He also helped my folks find their house, the one where they plan to retire.
He knew what to look for, both good and bad, and was always helpful with suggestions as to what and how things can be renovated and changed to suit our preferences…" says Melanie J.
Although all future and current clients get access to benefits such as flexible commission rates and marketing exposure, the "secret sauce" they get from Allan is his experience & help pre-empting against common home-selling mistakes.
Often, the little touches make all the difference. "A lot of people like to list their house on the market in the current condition that it's in," says Allan. "It's always best to invest a little bit of time and a little bit of money transforming it into a showpiece, so it sells faster and for more money.
"There are a lot of things you can do that are very inexpensive and help give your home a fresh makeover, so that helps influence someone's impression on the house when they see it."
3. Get Creative and Have Fun
Jerry brings a natural, friendly smile to everything he does – and Ben & Jerry's ice cream always plays off its "hippie" origins in an humourous way, from the familiar artwork to the flavours themselves, to their creation, and their marketing.
Creativity is a key ingredient of the ice cream's success. While Jerry created the flavours, his business partner Ben Cohen grew up with anosmia, the lack of smell. Ben hence contributed touch & texture to the ice cream. The result: frozen food that entertains all the senses.
Ben & Jerry's free-spiritedness can also be credited for their continuing brand recognition. When Häagen-Dazs attempted to suppress Ben & Jerry's ice cream from store shelves, Ben & Jerry responded by organizing and inviting their customers to a lighthearted, viral campaign named "What's the Doughboy Afraid Of?," parodying the mascot of Häagen-Dazs' then-parent company Pillsbury. The campaign succeeded.
When interviewed on TV about his #1 bestselling book on mistakes that people make when selling heir home, Allan highlighted his "H.O.M.E. Remedy" to ensure a smooth and effective home sale. The "E" stands for "enjoy the process – make it as fun as you can."
Durham Region home sellers interested in listing their property can contact Allan Rankin at (289) 302-8394, or request a free home evaluation at his website, www.allanrankin.ca. Buyers can view available Whitby Real Estate Listings on www.allanrankin.ca.
About Allan Rankin
Allan Rankin is a full-time professional real estate agent, with 17+ years of experience in the Whitby real estate market. Allan serves the real estate firm Re/Max Rouge River Realty Ltd Brokerage providing various Whitby real estate listings. He specializes in house selling, marketing, and negotiating. Allan is also one of the best-selling real estate authors. His vast experience of more than 17 years has led him to be featured on NBC, FOX, ABC and CBS. He was also recognized as a North American real estate authority by Forbes, being honoured into the Forbes Real Estate Council in 2017.
About Re/Max Rouge River Realty Ltd Brokerage
Re/Max Rouge River Realty Ltd Brokerage provides complete information on Whitby homes for sale, in Whitby and Durham Region. The firm operates and supports buying and selling of properties within the regions of Pickering, Ajax, Whitby, Brooklin, Oshawa, Courtice, Bowmanville, and Newcastle.